Election, law enforcement officials launch group to combat threats against voting process
The new Committee for Safe and Secure Elections says it wants to improve coordination between election administrators and law enforcement.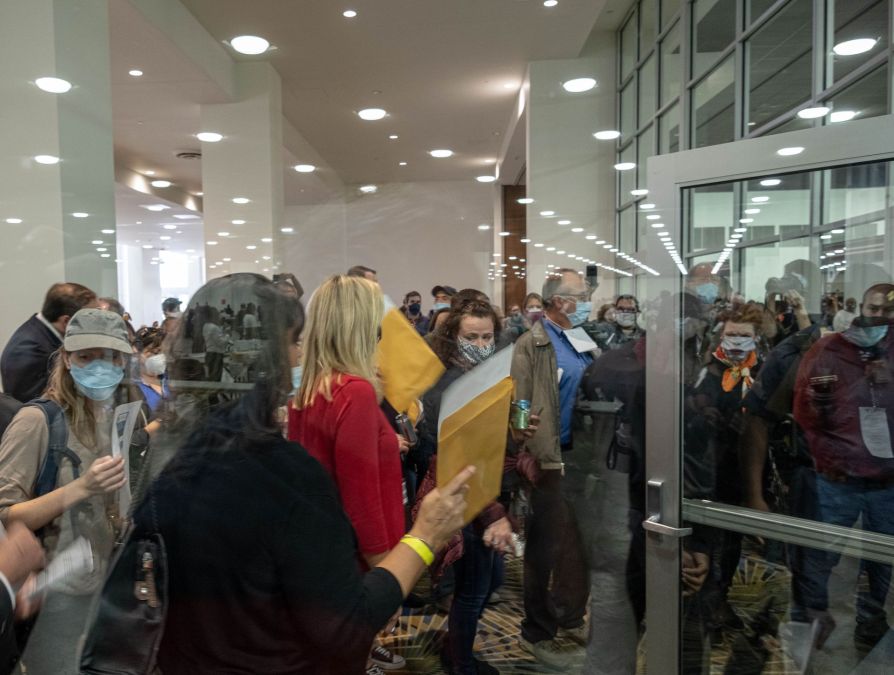 A group of 32 current and former election and law-enforcement officials on Thursday announced the formation of a group aimed at tamping down threats against poll workers and voters.
The new Committee for Safe and Secure Elections says it will attempt to connect local election administrators with their counterparts in police and sheriff's departments in hopes of preventing more threats, harassment and acts of violence that've hounded the voting process in recent years. The group, which is led by Neal Kelley, a former registrar of voters in Orange County, California, describes itself as a "cross-partisan" effort, and counts among its members officials from many other states, including Arizona, Colorado, Florida, Nevada, New Mexico, North Carolina and Wisconsin.
The committee also includes several current and former federal officials involved in securing elections, including Kim Wyman, a former Washington secretary of state who now leads election-security operations at the Cybersecurity and Infrastructure Security Agency.
'Like it happened yesterday'
Members of the committee said they plan to address threats against election workers using a variety of means, including developing practices to secure physical facilities and addressing disinformation campaigns that begin online but quickly spill into the real world.
"How do we be truth-tellers and soldiers of truth in combatting that?" Tina Barton, the former clerk of Rochester Hills, Michigan, said in an interview. "That is going to be a priority for us."
As the clerk during the 2020 election cycle, Barton, a Republican, experienced firsthand the type of behavior the new committee is attempting to address, when she and her family started receiving death threats after she rebuffed claims that the vote count she oversaw was inaccurate.
"We're not used to being threatened, whether it's personally or at our offices," she told StateScoop, adding that joining the Committee for Safe and Secure Elections is "personal" for her.
"It's been 570 days since the voicemail [containing a death threat] was left, but it's still like it happened yesterday," Barton said.
While Barton hasn't been watching all of the recent congressional hearings on the Jan. 6 attack on the U.S. Capitol — "It's still very raw" — she said she was moved by details of the testimony this week of Wandrea ArShaye "Shaye" Moss, a former election worker in Georgia who, along with her mother, was personally accused by former President Donald Trump in the days after the 2020 election of tampering with vote counts. Moss told members of a select House committee that Trump' baseless accusations fueled an attempted break-in at her grandmother's house, and prompted her and her mother to have to hide their identities in public for fear of being recognized.
"When you've been in that place, you envision all of that happening to you and you're horrified it happened to them," Barton said "I think of my election workers, 400 people who were so committed, I am shocked, appalled any of them would've experienced anything like that. It's been two years, but it's as if it was yesterday."
Building 'connective tissue'
Another member of the new committee, Jonathan Bydlak of the R Street Institute, said ensuring that poll workers and voters feel safe is a crucial building block in securing the democratic process.
"There are a number of facets of election security that are important," said Bydlak, who directs the center-right think tank's governance program. "One of those is making sure that ballots are being counted properly, but a lot of it starts with people feeling they're safe in the first place."
And while Bydlak said disinformation is one item the committee is going to look at, he said the issues run deeper than the last election and the road to the Jan. 6 attack.
"You can't separate the online from the in-person," he said. "The most recent data point was 2020. Trump and his supporters certainly played a big role, but this is a problem that predated the last president."
But Bydlak also said he thinks that historically, there's "not much" coordination between election and law-enforcement officials.
"They really don't talk with each other," he said. "It hasn't happened because it hasn't needed to happen."
Bydlak said the committee will attempt to facilitate more communications between election administrators and law enforcement. "There's a connective tissue that needs to be built," he said.
Barton said there are a few possible recommendations the new group might make to local officials, like running tabletop drills or giving police officers quick guides to election laws, something she said was done by Kelley, the former Orange County registrar. She also noted recent joint appearances that Maricopa County, Arizona, Sheriff Paul Penzone — who's a fellow committee member — held with the county's chairman and recorder about their preparations for possible threats against polling places and vote-counting facilities this year.
"When we're all more prepared, it will help prevent these things happening in the future," Barton told StateScoop. "I don't know if there's any easy simple solution, in an atmosphere we're in, the fact we can bring this group together, we can work on this problem and get closer to finding a solution."