ERP
A long-delayed ERP upgrade is nearing completion, freeing up resources to "optimize" the county's technology, its CIO said.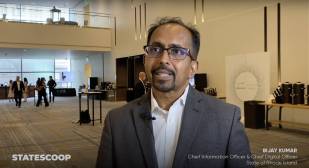 The pandemic forced state government to respond to urgent needs, but now there's room for longer-term planning, says Rhode Island CIO Bijay Kumar.
As CIO, Dunn led the first phase of a major enterprise resource planning system upgrade and readied the state for more data-driven decision making.