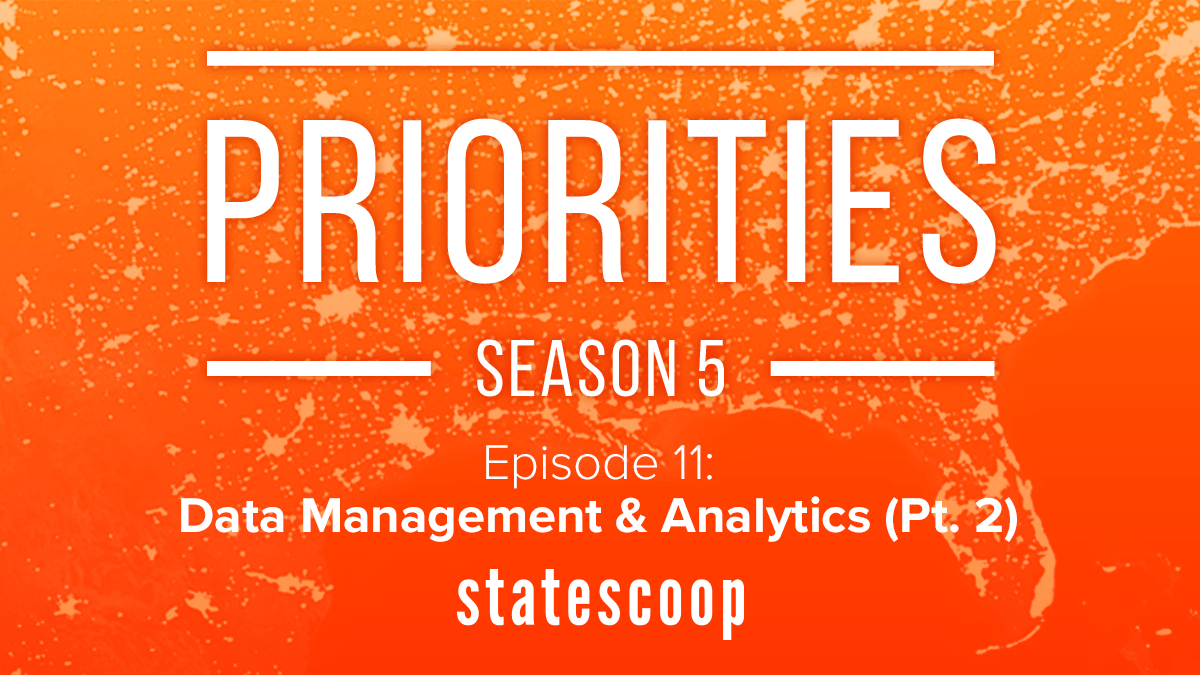 States are striving for smarter data practices during the pandemic
As states continue to be hyper-focused on data related to the COVID-19 pandemic, officials are also showing growing interest in becoming more diligent stewards of the data assets that can be used to improve operations and policymaking.
On StateScoop's Priorities podcast, Tyler Kleycamp, director of the State Chief Data Officers Network, says that while the increased use of data by states and cities is encouraging, there's still much they can do to improve their use of data, including boosting the profile of their chief data officers.
"What's interesting is back in January when a lot of these governors were giving their state of the state addresses, they rarely mentioned data during these, if at all, and so not only are we seeing this new emphasis from very much a top-level position within state government, but now we're seeing this interest from more of a broad public perspective," says Kleycamp, a former Connecticut CDO who is now a fellow at Georgetown University's Beeck Center for Social Impact and Innovation.
As further evidence of people's increased interest in data, Kleycamp said Indiana's open data website received 1 million hits in a recent month, with more traffic to its COVID-19 data than the entire site saw in all of 2019. 
But, he said, states are still using an outdated framework in which the chief data officer isn't close enough to the point of decision-making. The result of an inadequate focus on data can be shortcomings or failures to act quickly upon the introduction of new programs, such as new pandemic aid relief.
"We continue to see states, some states at least, struggle to share, integrate, analyze data across a variety of programs and services," Kleycamp says.
He suggested governors elevate the role and the profile of the CDO within state government and to continue building out their governance structures around data. The Chief Data Officers Network offers resources to assist states in these efforts, including a document that shows what an effective state data program looks like, and an "economic recovery roadmap." 
"We need to start thinking of data as critical infrastructure within the state government," Kleycamp urges on the podcast.
Technology officials in Illinois say on the podcast they're making data a priority. And, they say, they have "substantial" involvement in how data related to COVID-19 is circulated around their organization, influencing policymaking.
"At the county, state and regional levels. we're deeply involved in hospital availability metrics, in development of the restore metrics for reopening, in development of resurgence metrics for reclosing, in analyzing county metrics and now in establishing contact-tracing metrics," says Tammy Roust, Illinois' chief data officer. "My team runs the central data repository. That's [the Illinois Department of Innovation and Technology's] responsibility. That's used for operational decision making and we have a standard process for automating data ingest, analytics, and the dissemination of the reporting that's produced."
But like most states, the pandemic caught Illinois off-guard. Roust had been hired only a few months prior to the pandemic and had little time to acclimate to the role, let alone establish the type of data infrastructure she would have wanted to help the state weather a pandemic. Several modernization projects were only just getting started when the pandemic began, though Jennifer Ricker, DoIT's acting assistant secretary, said a silver lining is that some of the projects have been allowed to be fast-tracked.
To ensure data can flow smoothly through a state, though, Roust said it's important to follow all the usual data practices and to correct any problems with data "at the point of ingest" to ensure any errors are not spread around an organization.
"We have a federated model where we have both centralization and decentralization, where we have data stewards and group data stewards who are responsible for the data at their respective agencies, as well as the state data practice, which helps advise and inform on policies and practices," Roust says.
On this episode:
Tyler Kleycamp, fellow, Georgetown University's Beeck Center for Social Impact and Innovation
Jennifer Ricker, acting assistant secretary, Illinois Department of Innovation and Technology
Tammy Roust, chief data officer, Illinois Department of Innovation and Technology
Colin Wood, managing editor, StateScoop
Listen to archived episodes of Priorities from Season 5 (2020),  Season 4 (2019), Season 3 (2018), Season 2 (2017) and Season 1 (2016). Catch all of StateScoop's podcasts on Soundcloud, Apple Podcasts, Spotify, Google Play, Stitcher or Alexa's TuneIn.