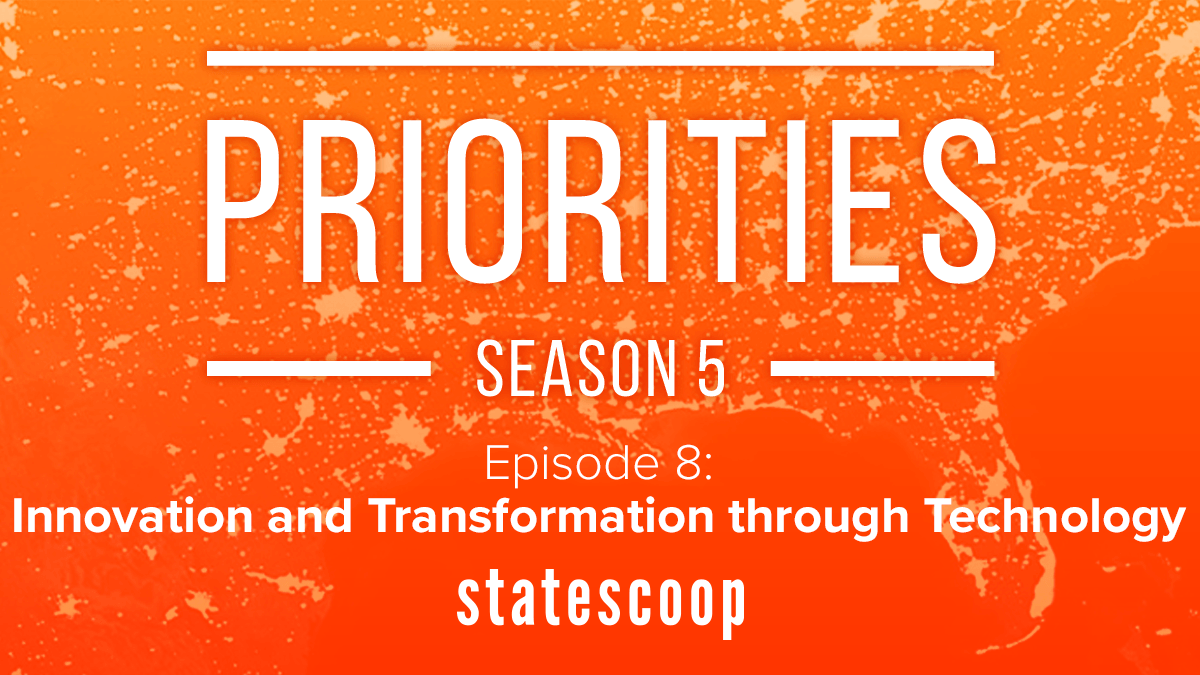 What role should innovation play in states' pandemic response?
Between the adoption of enterprise software that prepared their organizations for a more nimble response when the coronavirus pandemic hit and a general willingness to try new ideas, innovative technology has proven a useful tool during the pandemic, two state chief information officers told StateScoop on the most recent episode of the Priorities podcast.
"It doesn't hurt to dip your toe in the water early on," Utah CIO Mike Hussey said on the podcast. "I think sometimes there's some apprehension that you have to figure out how to boil the ocean on some solution, and I think you can dip your toe in the water early on, get some exposure, and then if it's right just go all in. And I think that's what we've done on many of [our projects.]"
Sometimes those innovative projects don't work out, Hussey said, pointing to a recent effort to geo-fence Utah's state borders in an attempt to notify those entering the state where they could find health care and to provide other information related to the pandemic. But after piloting the technology, people who lived near the border were repeatedly pinged with notifications because the location-tracking technology his office used wasn't precise enough, he said.
The project was shut down, but Hussey said failures like those don't mean state government shouldn't try new things, especially since there were many other projects that worked. Since the pandemic begun, Hussey's office has rushed out data dashboards, chatbots and digital signature capabilities that have enabled agencies to continue offering services.
And a general shift to online services, he said, has moved millions of transactions online each year, which a University of Utah study estimated saves the state $46 million annually. 
North Dakota CIO Shawn Riley said on the podcast that innovation can be defined as any change, big or small. 
"Innovation is purely a reflection of a growth mindset, believing in the art of the possible, believing that all barriers can be overcome," Riley said. "The reality is most innovation is crushed by people saying simply, 'Nah that can't be done.' The reality is if you take that line out and say, 'Hm, how might we, how could we, what if we,' you will innovate."
In North Dakota, he said, innovation includes making sure nobody has to wait in line when they need a service, a robotic farming initiative hoped to advance the field of precision agriculture and research to develop drones that can be legally operated beyond the user's line of sight. A statewide sensor network now being developed to provide data on traffic and weather will eventually have a billion sensors, Riley said, outnumbering North Dakota's residents a thousand to one.
North Dakota is also one of a handful of states, Riley said, working with the Centers for Disease Control and Prevention to coordinate the sharing of data related to COVID-19. Better systems interoperability and data-sharing across state lines could help officials act faster, he said.
"We can feed data to one source so we can have a much more comprehensive view of all of our citizen information around the COVID pandemic," Riley said. "We're going the right way but unfortunately it takes quite a while to do this and the virus is moving faster than we are."
On this episode:
Shawn Riley, CIO, North Dakota
Mike Hussey, CIO, Utah
Colin Wood, managing editor, StateScoop
Things to listen for:
Utah has moved more than 1,200 of its services online.
Hussey's office has helped his state's Department of Motor Vehicles implement an text messaging system so customers can maintain social distancing while they're waiting for service.
Among Riley's current projects is a push for statewide standards for technology and cybersecurity education.
North Dakota is currently developing a platform to help agencies share data more effectively. Modernizing the systems themselves, Riley said, will be a bigger project.
Listen to archived episodes of Priorities from Season 5 (2020),  Season 4 (2019), Season 3 (2018), Season 2 (2017) and Season 1 (2016). Catch all of StateScoop's podcasts on Soundcloud, Apple Podcasts, Spotify, Google Play, Stitcher or Alexa's TuneIn.