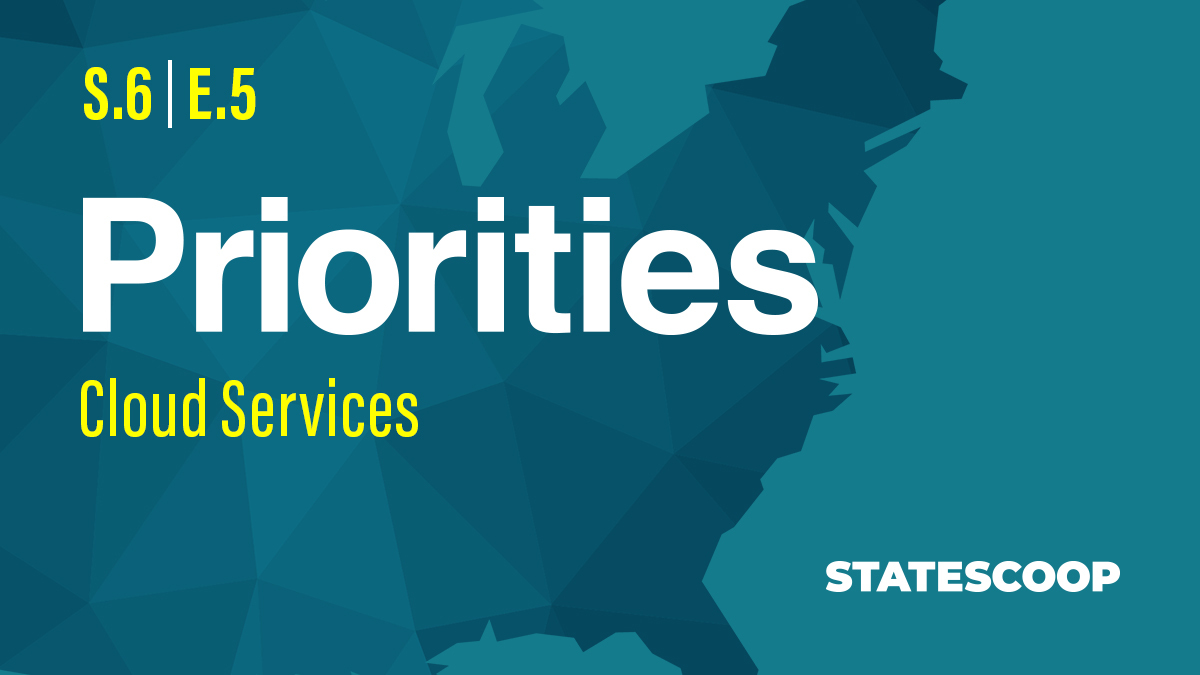 Growing cloud adoption in states breeds new considerations
State government agencies are becoming increasingly interested in moving their services and data into the cloud, a trend that was accelerated in recent years by natural disasters and the ongoing coronavirus pandemic, officials from California and Utah say on StateScoop's Priorities podcast.
In Utah, cloud adoption is being facilitated through the creation of a "cloud vending machine" — a platform that makes it easier for agencies to quickly launch cloud applications, says John Angus, deputy director of the Utah Department of Technology Services.
"I think just about every agency has moved some of their workloads to the cloud," Angus says. 
Though Utah will probably never be entirely in the cloud, Angus estimates that as much as 90% of its services will be cloud-based within the next 18 months. 
And as the cloud becomes easier for agencies to use and hesitation surrounding the technology abates, the state is enabling capabilities that wouldn't have been possible through software served from government data centers.
"The governor opened up our help to local health districts and beyond," Angus said. "If we wouldn't have had the cloud, we wouldn't have been able to do that. One local health district couldn't keep its site up to get people their vaccination appointments, so we went in and moved their entire website up to the cloud and then kind of scaled it as needed and that worked out really well for them."
Meanwhile, California officials say the shortened timelines of cloud projects have enabled rapid responses during the pandemic that wouldn't have been possible without cloud technology. 
"Through the events of the last few years, through wildfires, pandemic, we were often asked to build systems and have them up and running within days. That's something we never could have done in the past without cloud services," says Scott MacDonald, the state's deputy chief technology officer.

MacDonald says agencies are adopting the cloud at an "exponential" rate, driven by staff who have growing skill with cloud architecture and an erosion of the fear that once in the cloud, services would be out of government's control.
"I think there's much more of a comfort level now," he says.
Liana Bailey-Crimmins, who was appointed this year as the state's new chief technology officer, says she's seeing a greater interest from agencies in using a hybrid-cloud model, in which they retain use of a legacy mainframe system for the back end and use cloud for front-end functions. While the state is striking a greater foothold in cloud environments, she says California officials must also continue living up to their responsibilities as public fiduciaries.
"Some business areas think it's the CIO's determination to decide where the solution resides, and I will say that's not the maturity model that people should be considering," Bailey-Crimmins says. "It is a business decision because you're talking about legal risk, operational risk, security risk. We don't get to absolve ourselves of our responsibility to our constituents. We don't get to turn on a service in the cloud and walk away from it."
On this episode:
John Angus, deputy director, Utah Department of Technology Services
Liana Bailey-Crimmins, chief technology officer, California
Scott MacDonald, deputy CTO, California
Colin Wood, managing editor, StateScoop and EdScoop
Listen to archived episodes of Priorities from Season 5 (2020),  Season 4 (2019), Season 3 (2018), Season 2 (2017) and Season 1 (2016). Catch all of StateScoop's podcasts on Soundcloud, Apple Podcasts, Spotify, Google Play, Stitcher or Alexa's TuneIn.