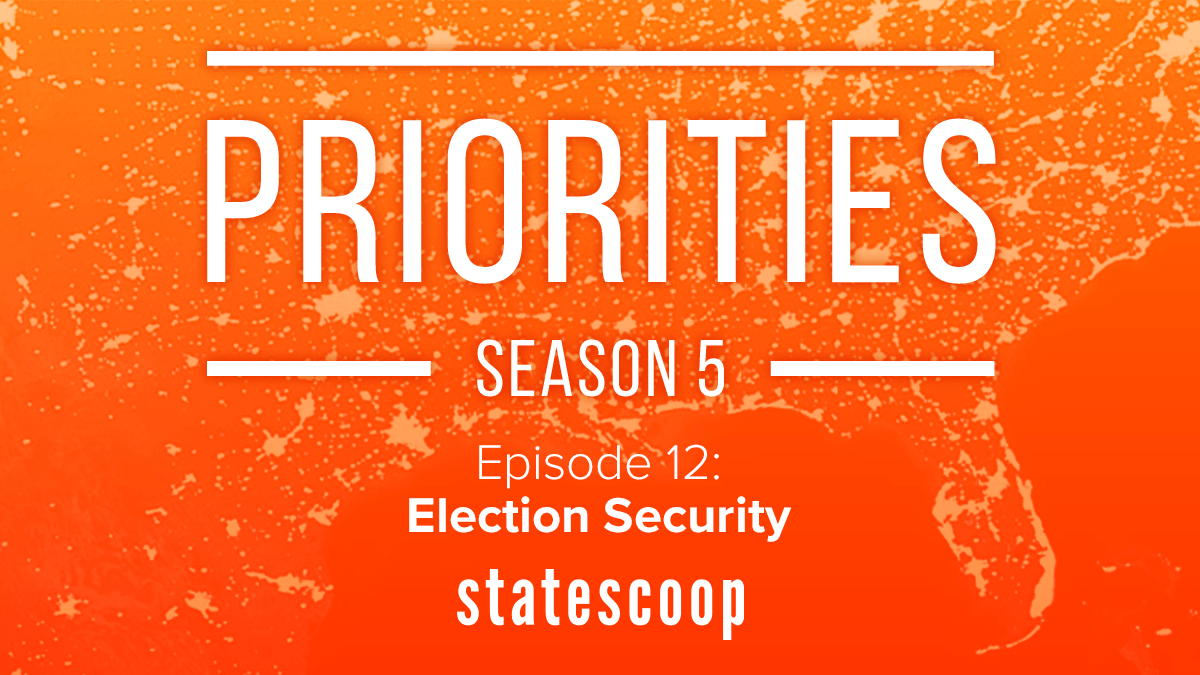 Is our elections infrastructure ready for the November election?
After the disinformation campaigns that influenced voters ahead of the 2016 presidential election and four years of increasingly sophisticated malware, election officials face an imposing threat landscape heading toward Nov. 3. To help make sense of emerging threats and to better understand concerns on the minds of state and county election administrators, two experts joined StateScoop's Priorities podcast to share the work they've been doing to prepare for the election.
Ben Spear, director of the Elections Infrastructure Information Sharing and Analysis Center, run by the Center for Internet Security, says on this episode that between the intrusion detection programs offered to local offices, his group's information-sharing efforts and other technical offerings, like a domain blocking service, he believes the nation's cybersecurity posture around elections has improved.
"I think we're in a much stronger place, as it were, and that's not to say cybersecurity wasn't an issue before 2016," Spear says. "It was something election officials actually were aware of and were paying attention to, but it was being done disparately."
Spencer Wood, chief information officer for Ohio Secretary of State Frank LaRose, says he believes the 88 counties in his state are doing everything necessary to secure the election and that the other 49 states are also undertaking all the right preparations. The election in 2016 was a wake-up call, he said.
"It's kind of been a rallying cry within the election community to make sure that we get everything right, because we know that the bad guys are constantly testing us and we have to basically get it right every single time and they only have to get it right once," Wood says.
Wood says he's concerned about misinformation and disinformation, but on that front too, his office is working with social media platforms to limit its influence. His office is also taking "proactive" steps to fight disinformation, he says, holding meetings with community groups or "anyone who will listen," as his office answers questions and dispels popular myths about the elections process.
"The biggest cure for disinformation and misinformation is information, the right information," Wood says. "And if you want to help protect and secure democracy, there are a couple things you can do. First of all, if you are able to take off on Nov. 3, sign up to be a poll worker. The largest population of poll workers are typically also those who are most vulnerable to COVID-19 right now. … And most importantly, vote."
Resources mentioned:
On this episode:
Ben Spear, director, Elections Infrastructure Information Sharing and Analysis Center

Spencer Wood, chief information officer, Ohio Secretary of State's office

Colin Wood, managing editor, StateScoop
Listen to archived episodes of Priorities from Season 5 (2020),  Season 4 (2019), Season 3 (2018), Season 2 (2017) and Season 1 (2016). Catch all of StateScoop's podcasts on Soundcloud, Apple Podcasts, Spotify, Google Play, Stitcher or Alexa's TuneIn.