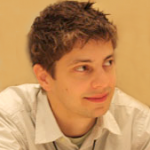 Redesigning .gov with Danny Chapman
Creative director Danny Chapman has been a key influence in the design and development process for RhodeIsland.gov , Hawaii.gov and Pennsylvania.gov , and an integral voice on government adoption of responsive web design principles.
He also recently served as a White House Presidential Innovation fellow with Project MyGov , now MyUSA, that focused on bringing a more citizen-centric web experience to federal government information.
Chapman joins us to discuss his work, including RWD, mobile content development, the role open source plays in government, design inspiration and more.