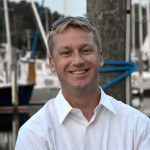 Interview: Nick Skytland discusses National Day of Civic Hacking
Nick Skytland, a partner at Houston-based Second Muse, joins StateScoop Radio to talk about the second annual National Day of Civic Hacking, where thousands of people from around the country will use technology to solveproblems facing government.
Skytland, who serves on the planning board for the National Day of Civic Hacking, said this years event held the weekend of May 31 and June 1 will feature more than 120 events across the U.S.,with some being held internationally as well.
The event brings together citizens representing government, businesses, nonprofits, technologists and entrepreneurs, but also people who care about their neighborhood and community.
The event it is planned in coordination with the White House Office of Science and Technology Policy and will be supported by a number of federal, state and local agencies.
For the second year in a row, Intel is the national sponsor with additional support from the Knight Foundation . The operations team is led by SecondMuse and includes Code for America and Innovation Endeavors .
For more information and to find an event near you (or to host your own), go to the hackforchange.org.