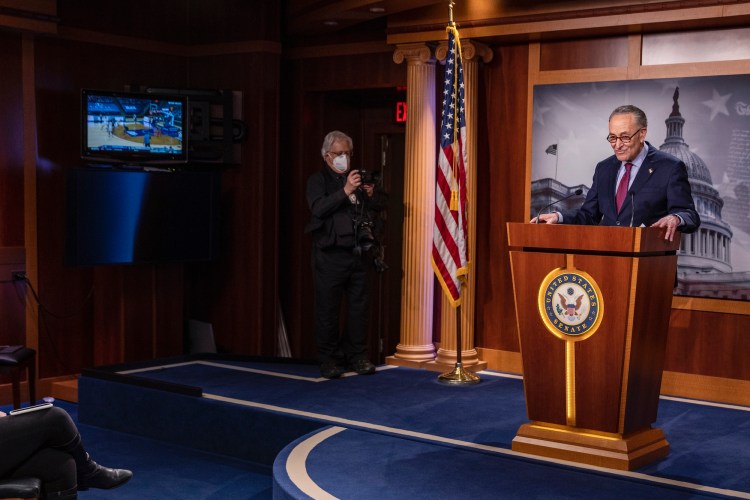 State and local aid is coming
The Senate on Saturday approved its version of a $1.9 trillion COVID-19 relief package that includes $350 billion in long-sought direct assistance to state and local governments. The money will allow state and local agencies, which have shed about 1.4 million workers since the start of the pandemic, to provide government services and plug budget holes created by the crisis. It also includes $7 billion for broadband deployment. "The passage of this bill affirms a strong federal-state-local partnership," said Matthew Chase, executive director of the National Association of Counties. The bill is expected to be passed by the House on Tuesday before heading to President Joe Biden. Benjamin Freed reports.
A Message From AWS Educate
With over 1,500 institutions and hundreds of thousands of students who use AWS Educate, we wanted to take you on a trip around the world and highlight how students are learning and innovating with the cloud. Learn more.
'A big F'ing deal'
With potentially tens of thousands of organizations at risk, officials at the Department of Homeland Security's cybersecurity agency held phone briefings with state and local officials Friday and Saturday to assess the scope of the reported compromises of Microsoft Exchange Server allegedly carried out by Chinese spies, CyberScoop's Sean Lyngaas reports. "We have two state counties that have seen some indicators of compromise," said one state official who was on one of the DHS briefings. "Obviously this is a big F'ing deal." Read more on CyberScoop.
Using data to reduce vaccine hesitancy
Data analysis, data modeling and message testing are the three key ingredients to Illinois' new $10 million vaccine awareness advertising campaign, geared toward communities that have been hit hardest by COVID-19, Gov. J.B. Pritzker announced Friday. The state, which according to the Centers for Disease Control and Prevention ranks 26th in vaccine distribution nationally, is working with Civis Analytics to promote vaccinations in communities with higher-than-average rates of hesitancy. The state's data suggests that people between 18 and 34 years old earning less than $25,000 annually, especially women and Black adults, responded best to persuasion campaigns. Ryan Johnston has details.
Wi-Fi! In! Spaaaaace!
North Carolina Gov. Roy Cooper's office announced last week that some students in two of its most rural counties will soon be able to access the internet via satellites beaming signals from a low Earth orbit. The state broadband office is using $264,000 in CARES Act funding on SpaceX's Starlink satellite internet service, which is launching thousands of Wi-Fi generating satellites into space. Colin Wood has details.
Why the wait?
Washington state lawmakers criticized the state auditor's office during a hearing on Thursday for not being more forthcoming about a recent data breach that exposed the personal information of 1.3 million residents. Auditor Pat McCarthy's office announced last month that one of its IT vendors, Accellion, which provides file-sharing and collaboration software, experienced a major breach, an incident that has also affected universities and corporations. But Accellion had notified the agency about the breach in mid-January, weeks before the public disclosure. "It just doesn't quite make sense to me," state Sen. Karen Keiser told one of McCarthy's staff members. Ben has more.