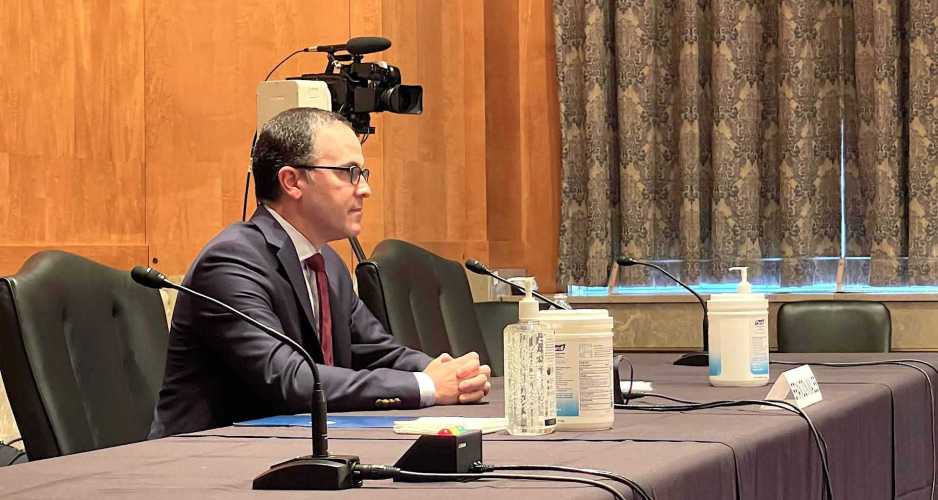 CISA boss recaps 2020 for election chiefs
The compromise of products made by software company SolarWinds that allowed hackers to gain access to a wide array of organizations does not appear to have affected any systems involved with election administration, Acting CISA Director Brandon Wales told the National Association of Secretaries of State yesterday. But speaking to the group, Wales said there is still much more to be learned about the extent of the incident, which is believed to be the work of Russian intelligence agents. He also addressed some of the political fallout from CISA's "Rumor Control" website that vigorously corrected election misinformation spread by former President Donald Trump. Benjamin Freed reports.
A Message From AWS Educate
With over 1,500 institutions and hundreds of thousands of students who use AWS Educate, we wanted to take you on a trip around the world and highlight how students are learning and innovating with the cloud. Learn more.
IBM steps into school ransomware fight
IBM this morning announced it plans to distribute $3 million worth of in-kind grants to public school districts around the country in an effort to help the education sector defend itself from the ongoing scourge of ransomware attacks. The announcement of the new program, which will be parceled out among six school systems that the company will choose later this spring, comes as the ransomware threat against schools only worsens. "Schools have to rethink cybersecurity the way they've rethought physical security," said Herb Stapleton, a section chief in the FBI's cyber division. Read more on EdScoop.
That's one tough data center
To ensure its data will be backed up in the event of a cyberattack or a natural disaster like a tornado, Oklahoma has built a secondary data center in Garland, Texas, using $110 million in CARES Act funding, the state's Office of Management and Enterprise Services announced Wednesday. The secondary data center, located across state lines in the Dallas suburb of Garland, is capable of withstanding an EF-3 tornado, which is classified as capable of causing "severe damage" and reaching wind speeds as high as 165 mph, officials said. Colin Wood has details.
Ernst & Young, Microsoft collaborate on digital vaccine management system
Georgia, Tennessee and Oklahoma are among the states that will distribute and schedule their COVID-19 vaccine reserves using a new digital vaccine management system announced Tuesday by Ernst & Young and Microsoft. The system, built on Microsoft's Azure cloud software and data analytics tools, was introduced a day after Google Cloud announced the creation of a similar platform for health agencies to use. Ryan Johnston has the story.
Ohio Gov. DeWine proposes $10M for police body-worn cameras
Body-worn cameras could soon become more prevalent among Ohio police following a budget proposed by Gov. Mike DeWine that includes $10 million for the technology. DeWine said only 183 of the state's 900 law enforcement agencies are using body-worn cameras. "My goal is for every police officer in the state of Ohio to have a body camera," he said during a briefing yesterday. "I think it protects the police. It protects the public and it's good to have that transparency." Colin has more.
Miami-Dade County appoints new interim CIO
Miami-Dade County, Florida, promoted deputy director of information technology Margaret Brisbane to interim director following the retirement of longtime CIO Angel Petisco, officials announced Tuesday. Before her promotion, Brisbane led more than 250 staff in supporting critical countywide systems in human resources, finance, the judicial and legislative systems and agencies like parks housing and social services. Read more about Brisbane.
How cloud security tools provide greater return on agency resources
IT weaknesses exposed during the pandemic are prompting agency leaders to address three key areas of security: vulnerabilities, threats and inefficiencies in measuring risk. A new report investigates how agencies can increase visibility across the network and improve how they analyze security data. The report spotlights NYC Cyber Command as one of the many agencies seeing significant operational improvements by taking a cloud-based, zero-trust approach. Read more.
Wanna play?
The Texas Department of Public Safety this week apologized for a "test malfunction" in the state's Amber Alert system that asked subscribers to keep an eye out for Chucky — as in the murderous doll from the "Child's Play" horror franchise. The alert described Chucky as 28 years old, 16 pounds, wearing blue denim overalls and wielding "a huge kitchen knife." The department said it is "diligently working to ensure this does not happen again." This is the end, friend.