The PayIt Digital Government Adoption Index Report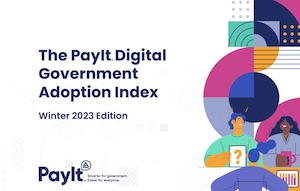 If there's one word to describe interactions between residents and government agencies, it's friction. Constrained resources, complex organizations, limited human capacity, and massive IT transformation goals make digital updates a hurdle for government agencies.
Given these challenges, PayIt wanted to examine a few key questions as governments and residents seek to improve digital interactions. The report explores:
What do government agencies think about digital transformation, and how does that align with what consumers want?
What drives the shift to online, and how can agencies unlock adoption?
What trends for 2023 (and beyond) should be considered as government agencies invest in digital service delivery?
The report also includes a few recommendations to keep your agency focused on digital transformation initiatives that benefit your residents and, by extension, agency staff.